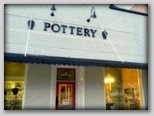 Leslie Martin Pottery

Thanks for your interest in my work. I began working with clay through a beginning wheel class 20 years ago. I felt pulled toward pottery from a very young age. My path was set from that first class. I continue with classes and workshops at any opportunity. I'm at my studio most days.

My husband & I bought an old building on Main St. in Franklinton about 8 years ago. It proves to be a great work space, allowing room for lots of equipment. My faithful companion Luca is there with me. He's our spoiled little shihtzu poodle mix. Our first frou frou dog, he rules our world. I still feel excitement when thinking about and planning my next project. Really, any time my hands are in clay I'm at Mardi Gras.

I find inspiration through various settings in nature. As an art lover, I enjoy poring through various art and pottery books. I continually think about what will make each piece the best it can be as I'm working, thinking about finishes such as handles, spouts, and glazing. I strive to reflect my love of clay in each finished piece.